NEW PRODUCTS
Are your eyes getting dry from wearing your contact lenses? There are so many new and refreshing lenses out now. Coopervision's Biofinity and Ciba's Air Optix are two of the latest re-wetting lenses.
Have you been told that because you have "Astigmatism", that you cannot wear Contact Lenses? New products could make your chances a lot better now!
Bifocal wearers: Yes, there is hope for us now! New "Multifocal" Contact lenses are better than ever!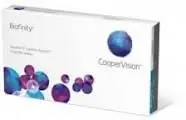 We carry Biofinty Products from Coopervision including Spherical, Toric and Multifocal Contact Lenses.
30 day lenses that feel as good on day 30 as Day One